Join us for our next meeting!
1st & 3rd Thursdays each month, 7:00 p.m.

We *generally* meet at 7 pm at Carl Black Chevrolet, at
11500 East Colonial Drive, Orlando, FL 32817, except for the last
meeting each quarter (Mar, Jun, Sep, Dec) when we usually hold a
casual dinner meeting at restaurants around the Orlando area.
See the maps, below, for driving directions to popular locations.

Click here to view our Calendar of Events and Meetings


---

Map to Carl Black Chevrolet
11500 East Colonial Drive, Orlando, FL 32817
(between Rouse Rd & Alafaya Tr)
Please do NOT park in the customer spots out front!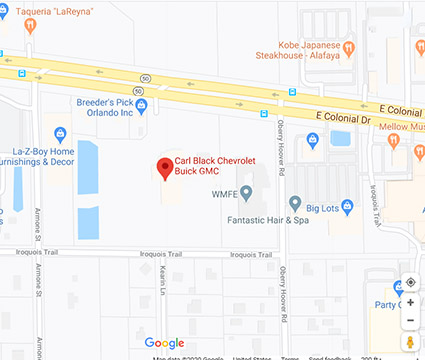 Map to Roger's Corvette Center
Located at 8675 N Orlando Ave (17-92), Maitland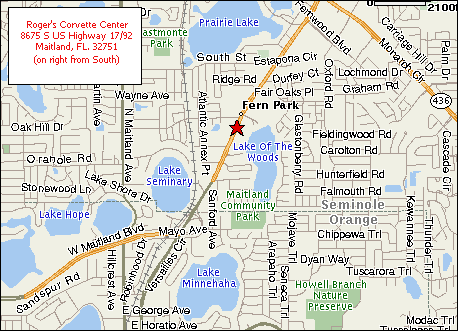 Map to the Russell Home for Atypical Children
Located at 510 W. Holden Ave
(Driving directions shown from Courtesy, aka World, Chevrolet)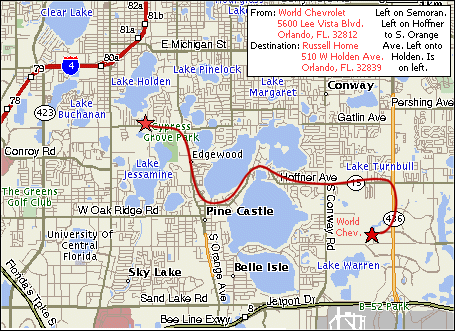 Directions to De Leon Springs Park
Take I-4 East to the Lake Helen exit – go right (west) on (Orange Camp Rd.)
Take Orange Camp to Dr Martin Luther King Jr. Beltway and make a right. (this road will change names, Kepler Rd.) (take this all the way to State Road 92).
At 92 take a left
Take 92 to the end – it turns into 15A (truck route).
Take a left on 15A
Go to Plymouth and turn right
Take Plymouth to Grand Avenue and turn right
Take Grand Ave to Wheeler Street and turn right
Go out to 17, take a left
Take another left onto Ponce De Leon Blvd (look for signs to the park)
CFCA's Simplified Directions to Key West
1. Drive South
2. Do NOT go towards Naples
3. When you run out of road, you're there!

|| Home || Calendar || Club Info || Members || Scrapbook || Sponsors ||
|| Charities || Guestbook || Classifieds || Links || Contact Us ||